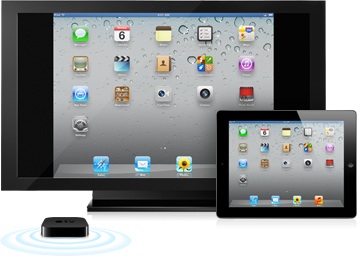 As I continue to explore ways to make mobile teaching and learning work, I was extremely excited earlier this week when our Tennessee Board of Regents Assistant Vice Chancellor for eLearning gave me an AppleTV and said, "Use this."  I watched good friend Tim Blais demo how to mirror your iPad2 onto an HD TV or HD project with the AppleTV.  So, a couple of nights ago, I decided to give it a go.
After I (1) updated my iPad2 to iOS5 and (2) plugged in the AppleTV, I couldn't get it to work.  I searched the web and was pretty sure I was missing something simple.  What I found out was I wasn't the only one having a little trouble.  Below are the instructions for making this work.  I knew Tim was making it look easy.  Plus, all of this was confirmed by my friend Daphne Brown who got it all working with help from Tim. 🙂
Updating Your iPad2
Your iPad2 (or iPhone 4s) has be running iOS5.
Backup, then update.
Updating Your AppleTV
There is a glitch here: My AppleTV was running version 4.3 (and it says this is up to date). Unfortunately, this is not true.  It needs to be updated to version 4.4.x and it can't do this over wifi right now.

So, you have to plug your AppleTV into a computer running iTunes for it to update.  A couple of things to note here:

Launch iTunes first, then plug in your AppleTV.
You do not need the power cable for your AppleTV.
You do need a mini USB cable (that's it to the right) to connect your AppleTV to your computer running iTunes.  Unfortunately, this does not come with your AppleTV. So, I had to look around to find one.  Check your cellphone (if it's not an iPhone) or another small electronics device to see if uses a mini USB cable.  I was able to hijack one from from my digital camera (I think its the digital camera cord.  I can't confirm since I just keep them all in a drawer) and plug it in. I was also going to check my wife's Nook if this didn't work. Make sure it's the right cord, though.
The plug on the back of the AppleTV is small and just above the HDMI slot.
Your iTunes should immediately recognize the AppleTV and offer for you to "Restore and Update." This is what you want to do.
When complete, unplug the USB cable from your computer.  You do not need to eject or trash the AppleTV.  Just unplug the cable. (I know. How inconsistent?!)
Plugging in Your AppleTV
Now that you have it updated the device, you will be able to plug it into your TV.  Follow the onscreen prompts.
You will need to enter your wifi network name (e.g., 2Wire406 or your school's network) and the password, if it is required.
Turn on Home Sharing, and the AppleTV will ask you for your Apple UserID, which is your iTunes user name, and password. This should be the same one for your iPad.  These two have to be the same.
Check to make sure AirPlay under Settings >> General is on as well.  It should be by default.
You can also check under Settings >> About the version of AppleTV you have.  It should now say 4.4.x, which is what you need.
Mirroring Your iPad2
On your ipad, double click the home button and swipe from left to right. You should be able to see the iTunes player controls.
You will also see an icon that looks like a rectangle with a triangle. This is the AirPlay icon.
Touch the button and choose AppleTV. A new option for Mirroring will appear. Slide this to the on position. Your iPad will appear on the screen!
Take Note
I also found out that YouTube videos on my iPad2 now have the AirPlay icon added to the playback bar by default now.  So, if I am on a web page with a YouTube video, I can choose AirPlay and it will automatically play directly onto my HDTV or project instead of playing on my iPad2.  You don't have to go through the mirroring option at all.
Of course, AirPlay will also allow you to play your iTunes music and videos directly to the external video source.
Related articles